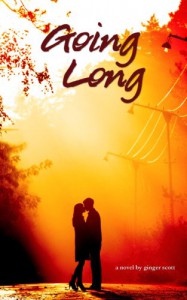 * ARC kindly granted by the author in exchange for an honest review *
This is the sequel to Waiting On The Sidelines and starts two years after Waiting On The Sidelines ends, with both Reed and Nolan in college.
I don't want to spoil this book for those who are desperate to read it for themseleves, so I'll keep this short and sweet...
Reed and Nolan are just as loveable in this book as they were in high school but their relationship has definately developed into something deeper and stronger, even if it's not perfect and they still have a few lingering insecurities (mainly Nolan).
The ups and downs in this book all stem from a lack of communication. A few misunderstandings and it leads to a whole world of pain because they just don't talk to each other. It left you angry that all the pain they go through could easily have been avoided if the had simply had a conversation. Honestly, you wanted to jump in and smack their heads together so many times... However, they are young, hurt, scared and they chose to put off the conversations that needed to be had. We've all done it. Everyone has avoided certain conversations in their lives, even when we know they really need to be had, so it was totally relatable and true to life.
The main thing that stays with you after reading this is that it was a joy to read. The ups and downs. The good times and bad. Sharing the lives of Reed and Nolan (and their friends) has been a wonderful experience. Both this book and Waiting on the Sidelines felt like you were reading about the lives of real people. You came to care for these people like they were your friends and you just want them to get their happy ever after... And fear not! They do get their happy ever after and when they do you want to jump up and down squeeeing with happiness (Okay so
maybe
I didn't just
want
to jump up and down, maybe I
did
jump up and down... Just a little....)
I'm really sad to say goodbye to this bunch of people. They've been awesome. Can't wait to see what Ginger Scott writes next.
P.S. I can't thank Ginger enough for giving me an ARC of this book. Really made my day!

5 out of 5 stars!
www.where-did-the-sun-go.blogspot.co.uk